Making the most of your digital memories...
Video Scrapbooking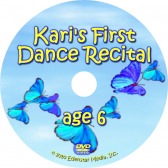 If you're like most families with a camcorder, you record your family's special times together - birthday parties, holidays, anniversaries, reunions, vacations and so on.
But then amid the busyness of life, the raw footage gets put aside - watched once, and forgotten - and never assembled into the family memento it could have been.
Edenstar Media has the solution.
With our video scrapbooking service, we'll transform your raw camera footage into a lasting video keepsake that your family will enjoy watching for years to come.
Sound good to you? Learn more...
---
If a picture is worth a thousand words, what is the worth of your family video memories?
---